Tony Nick was a former member of the US special forces, until he was denied of further service after he killed a fellow soldier for career placement. He was promoted 4 times and demoted once for a violent arguement with another soldier. He wandered around, looking for a new career for 2 years. However, when he heard the about the zombie outbreak, he immediatly snapped to action. He got his military uniform on and his
MP5 and
immdiatly joined the other zombie resistance fighters. The rest is history.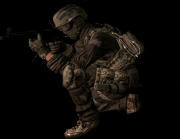 Tony Nick
Rank
Staff Sargeant

Affiliations

Former US Special Forces
Status
Alive, On Mars
Birth
1957

Weapon

MP5
Ad blocker interference detected!
Wikia is a free-to-use site that makes money from advertising. We have a modified experience for viewers using ad blockers

Wikia is not accessible if you've made further modifications. Remove the custom ad blocker rule(s) and the page will load as expected.