Professor Vaulen is a Chaotic Scientist who used to work for NASA on developing Space Warfare and New Elements so that the US Government could compete against the Soviet Union. However, in 1972 he quit and escaped the Facility in the Kennedy Space Center and met 3 other Men, Tony Nick., Zachary west and Marcus Burns. Together they made their to a Rocket near the Launch Pad. Hijacking a Helicopter on the roof of the Building. They flew all the way to top of the Rocket and killed the Engineers there and got into the Rocket makingtheir Escape. Then after A Zombie Was released on board as they make their way to Mars they must fight while they try to make they're way back to Earth.
Professor Vaulen
Nickname(s)
Mister "Evil"
Rank
Professor

Affiliations

NASA
Status
Alive
Birth
1942

Weapon

AK74u, M16, CZ75
Voice Actor
Ray davidson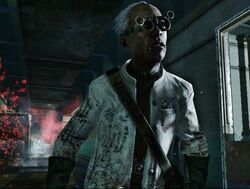 Ad blocker interference detected!
Wikia is a free-to-use site that makes money from advertising. We have a modified experience for viewers using ad blockers

Wikia is not accessible if you've made further modifications. Remove the custom ad blocker rule(s) and the page will load as expected.