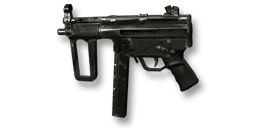 The
MP5K
was designed for close quarters battle use by clandestine operations and special services. It does not have a shoulder stock (the receiver end was covered with a flat end cap, featuring a buffer on the inside and a sling loop on the outside), and the bolt and receiver were shortened at the rear. The resultant lighter bolt led to a higher rate of fire than the standard MP5. The barrel, cocking handle and its cover were shortened and a vertical foregrip was used to replace the standard handguard. It has a 30 round Magazine.
Ad blocker interference detected!
Wikia is a free-to-use site that makes money from advertising. We have a modified experience for viewers using ad blockers

Wikia is not accessible if you've made further modifications. Remove the custom ad blocker rule(s) and the page will load as expected.