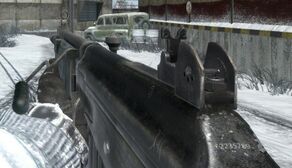 The Galil is a family of Israeli small arms designed by Yisrael Galil and Yaacov Lior in the late 1960s and produced by Israel Military Industries Ltd (now Israel Weapon Industries Ltd) of Ramat HaSharon. The weapon system consists of a line chambered for the intermediate 5.56x45mm NATO caliber with either the M193 or SS109 ball cartridge and several models designed for use with the 7.62x51mm NATO rifle round. It is named after one of its inventors, Yisrael Galil. It has a 35 round Magazine.
Ad blocker interference detected!
Wikia is a free-to-use site that makes money from advertising. We have a modified experience for viewers using ad blockers

Wikia is not accessible if you've made further modifications. Remove the custom ad blocker rule(s) and the page will load as expected.